We have been blessed in this country with some of the greatest ever motorsport competitors the world has ever seen.  I really want to have a Sportscar lunch box for my snack and drinks when I'm watching things like the F1 Paddock Club Belgium racing live at the stadium. To be able to get there you will need tickets so you could possibly visits sites such as https://edgeglobalevents.com/f1-paddock-club/f1-paddock-club-belgium to have your dream trip.  I can have whatever image I choose and I'd really like to have one with a racing vehicle on it.  But who do I choose? There is a pretty long list.
Sir Sterling Moss. Considered to be one of the greatest drivers to have never won the Formula One Drivers title Stirling Moss is a living legend.  He was runner up four times and was there at the start of the beginning of Formula one. His greatest achievement was to win the Mille Miglia. This was a race that took him around Italy and it had never been won be anyone other than an Italian before. Moss used a navigator and with pace notes to tell him of the hazards ahead he drove his way to an historic victory. He broke several speed records on Bonneville flats and also had a toilet that was electrically heated so the seat never got cold. Vehicle choice: Mercedes SLK from the Mille Miglia.
John Surtees. Surtees is the only person to have won both the Formula one Drivers championship in 1964 and the Motorcycle Riders championship. It's unlikely that this will ever be repeated. He only came to F1 through a chance test drive at Aston Martin. Choice: his 1960 MV Agusta Motorcycle.
James Hunt. Where do you start with James Hunt? He may have only won one Championship in 1976 but his lifestyle and Playboy charm more than made up for that. He was the last of the cigarettes and alcohol generation of F1 racing drivers when the Champagne was real. He was a fearless driver living for the moment and died tragically young at 45. Choice: It should be his McLaren M23 but the Hesketh 308 (no sponsorship!) sums him up better.
Barry Sheene.  If James Hunt was the playboy of F1 then Barry was his motorbike equivalent. He and James were great mate's socializing together. He liked a drink and smoke so much so that he adapted his helmet so he could have a fag right up to race start. He was World Champion in 1976 and 1977. Choice: His 1976 Number 7 Heron Suzuki.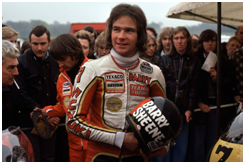 Nigel Mansell.  The only person to be F1 Champion and Indy car champion at the same time. Nick named "il leone" by the Ferrari fans due to his uncompromising racing style whilst with them. He was so committed he even pushed his Lotus, unaided, over the finish line after it broke down just to salvage 6th place. He was only 19 laps away from the world title in 1986 only for a left rear tyre to give way. He finally took the title in 1992. Choice: Has to be the RED 5 of his 1991 Williams. Preferably the picture of him giving Ayrton Senna a lift back to the pits. Two legends in one!
Lewis Hamilton. His racing story is not yet finished but he is already a legend. The most successful British F1 driver ever with three world titles, 74 poles and 64 wins plus almost winning the title in his first year! Choice: His current Mercedes.
The tricky choice isn't it?