Keeping your home and family safe from fire is something that everyone should be aware of, but many people don't know the best way to go about it. Whether it's alert systems such as smoke detectors or sprinkler systems from Automist installers in Bristol, there are many things to consider.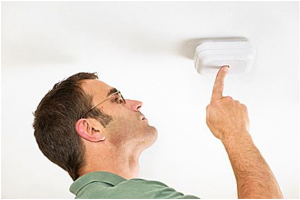 Existing Property
Existing domestic property is exempt from much fire safety legislation. A smoke detector is the main thing most people choose to fit – indeed, they're usually installed in new houses. This will give you an early warning of a fire and give you time to escape. Do make sure you test it occasionally, though, and change the battery when needed. Even mains-powered systems generally have a back-up battery to guard against power cuts.
Give some thought to how you would escape from the property in the event of a fire, and keep internal doors closed at night. You should also take care not to place objects close to heaters and open fires.
Many fires start in the kitchen, and a useful precaution is to have a fire blanket. This can be used to safely smother pan fires. An extinguisher is another option, but for kitchen, fires make sure it's not a water-based type.
If you're adding an extension, converting the attic or doing other work, it will need to conform to the latest Building Regulations
Landlords and Letting
If you're letting out your property, then you are responsible for the fire safety of your tenants. This means carrying out a risk assessment, identifying any hazards and removing or protecting against those risks.
In older houses, you should have the wiring checked by an electrician and give consideration to removing any flammable older décor, such as polystyrene tiles. Make sure smoke detectors are fitted; this will mean having linked mains-powered detectors covering the main escape routes. You might also want to give consideration to a mist type sprinkler system such as those supplied by Mainpoint Automist installers in Bristol.
Multiple-occupancy properties – such as student accommodation – will need extra measures such as a heat detector in the kitchen and emergency lighting in communal areas and escape routes. There will also need to be signs indicating escape routes and any fire-fighting equipment such as extinguishers and fire blankets.